Automation and Simulation Go Hand in Hand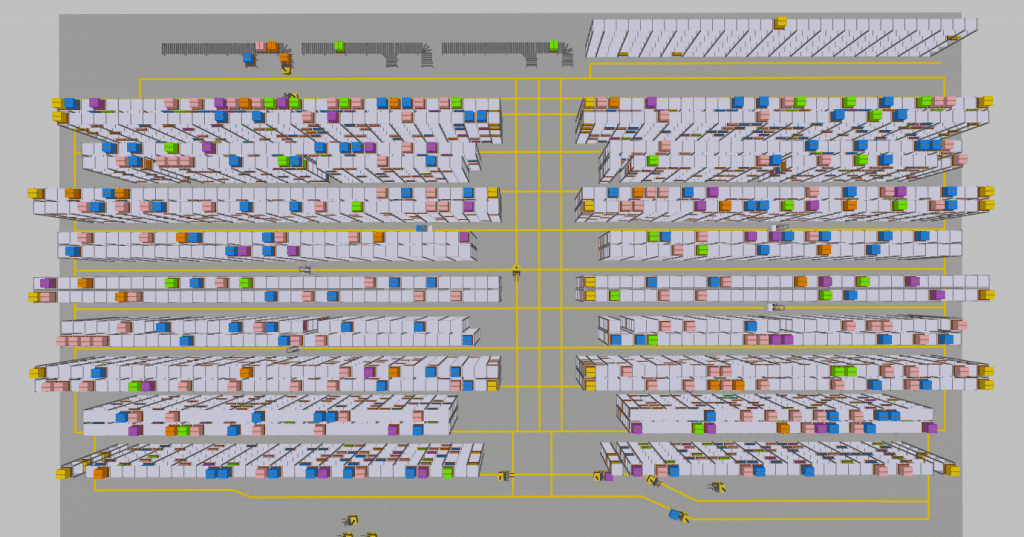 Not every solution requires simulation. However, for solutions that require the effective integration of multiple disparate automated systems, simulation offers a variety of benefits.
When a project calls for custom synchronization of two or more automated systems — such as conveyors, sorters, palletizers, robotic picking, and mobile robots — KPI Solutions (KPI) utilizes simulation. Simulation allows KPI to test and refine design concepts in a digital space to mitigate costly delays during deployment.
Simulation for Design Concept Refinement
Simulation allows KPI's design engineers to test alternative design concepts to identify the design that achieves the best overall performance across various scenarios and configurations. A simulation model provides a digital "laboratory" where equipment configurations, staffing levels, and robot counts can be varied to refine a design concept and ensure it is resilient against planned and unanticipated changes. This allows KPI's design engineers to catch and resolve issues before they become costly delays during deployment.  
Simulation can also help determine the best strategy for phasing automation into a new or existing system. By modeling a ramp-up period, KPI can help clients spread out an initial investment in new technologies over time while achieving improved performance during the initial phases of deployment. 
For example, simulating different allocations of manual labor versus autonomous mobile robots (AMRs) can identify the most effective strategy for phasing automation into an existing system. It can also help determine the optimal number of workstations to staff or robots to procure to satisfy normal versus peak demand for a goods-to-person solution.
Simulation for Software Testing
Without simulation, integrators typically have to rely on trial and error during deployment to determine how the warehouse execution software (WES) will impact system performance. This reliance on live field testing to work out software bugs or inefficiencies can cause costly deployment delays. Instead, KPI leverages simulation to test alternative WES rules in a digital environment during the design phase, ensuring the solution's deployment goes smoothly.  
For example, KPI can simulate different software triggers, robot allocation strategies, or mission priorities to predict the impact those rules will have on the throughput of an automated solution. This allows KPI to ensure proper integration of automated solutions before deployment, significantly reducing commissioning costs and time over traditional live testing methodologies.
Simulation for Research and Development of Automated, Market-Focused Solutions
In addition to testing and refining an automated solution for a specific client, KPI also leverages simulation to develop and test innovative new solutions for specific vertical markets. While all warehouse systems are somewhat unique, many within a given vertical share common challenges, objectives, and requirements.
KPI is constantly innovating new automated solutions to support new verticals. Simulation is an integral part of this process. It first proves the viability of a given design concept and then allows us to refine a proven concept to maximize its effectiveness as a solution for the target industry.  
Ultimately, if synchronized warehouse automation is a necessity, then simulation can help to ensure the proper implementation of your optimal solution. 
Where does simulation fit within your automation journey? Let KPI's simulation experts help optimize the design and deployment of your multi-automation solution. Contact us today.